Barrie Dragon Boat Festival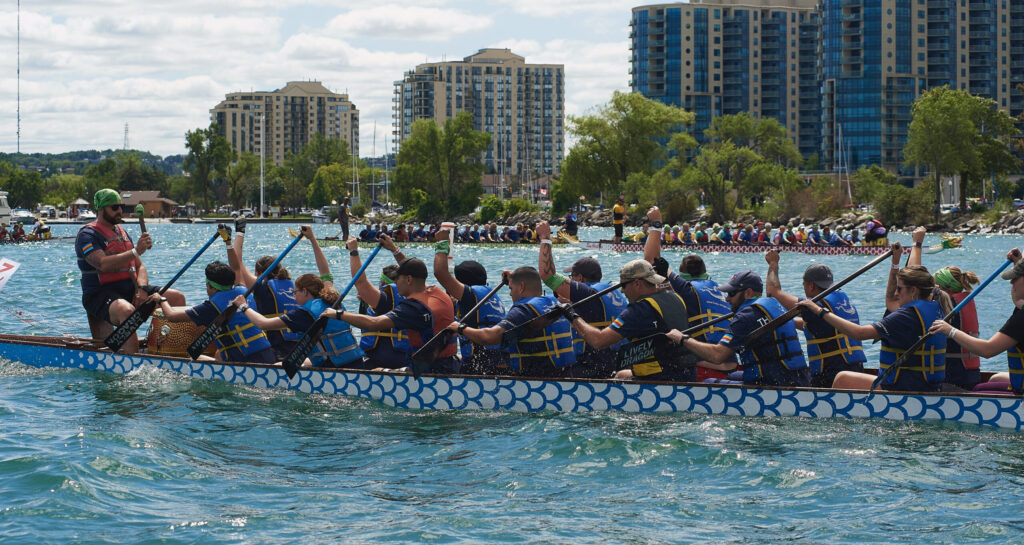 Saturday, August 19th, 2023
The 19th annual Barrie Dragon Boat festival returns on Saturday, August 19th, 2023 – for a full day of racing and community connection. Typically over 50 teams participate from the Simcoe region to raise money for their local charity of choice.
Proudly hosted by the Barrie Public Library and with a partnership with Corporate Recess Dragon Boating, we are able to make this event a magical day from the practices in the summer, all the way to the big regatta. 
Early Bird – $1000 (between Feb 1st-April 30th)
Regular – $1200 (May 1st – Aug 1st)
minimum of $500 donation to the charity of your choice
Teams must have a minimum of 16 paddlers + 1 drummer (17 total) or a maximum of 26 paddlers + 1 drummer (27 total)
A boat can comfortably accommodate up to 20 paddlers + 1 drummer (21 total) per race
Age: paddlers must be at least 14 years old or TURNING 14 during the current calendar year to participate
Genders: at least 8 females per team
Practices: $150/per practice
includes steersperson and does not include coach
practices are 1 hour long and typically are booked between 5pm-9pm Mon-Fri (day time practices are also an option)
Paddling single or have a few friends interested? Have a look and see if any teams are looking for paddlers!
Coaches: $50-$100/per practice
Learn the specific dragon boat stroke, seat positioning, athletic stance

Learn how to paddle together while changing speeds

Learn where each person contributes best in the boat
Learn how to start a race
Learn how to transition from your start to your race pace
Learn how to create a team cheer

Learn how to let go and have fun on the water